The INTERZONE Newsletter // 9 January 2023
In today's newsletter: a rundown of the fiction coming to IZ Digital this January; and a preview of some amazing Interzone art coming in #296
---
IZ Digital, January 2023
There are seven IZ Digital stories to enjoy this month. The first, 'Cold Reading' by Seán Padraic Birnie, is already out, and the second, 'Hasty Generalization' by Mary Soon Lee, is out tomorrow.
'Cold Reading' – an unsettling, Christmas-adjacent tale of a psychical incident in a queue – is Seán Padraic Birnie's IZ debut. Another of Seán's stories, 'Plague Dream', will be published in Interzone #295 later this year.
Seven of Mary Soon Lee's stories have appeared in the pages of Interzone and I am very excited to publish this story, the tale of Uplifted Caterpillar Number 131, in IZ Digital.
Don't miss them.
In the following weeks there are also stories by Michael Gardner, Timothy Mudie, Joseph Paul Bernstein, David McGillveray, and Philip Fracassi.
Details and dates:
'Cold Reading', a story by Sean Padraic Birnie with art by Dante Luiz // published 5 January 2023

'Hasty Generalization', a story by Mary Soon Lee with art by Dave Senecal // 10 January 2023

'Museum of Silences', a story by Michael Gardner with art by Richard Wagner // 12 January 2023

'The Ants That Eat the Bones', a story by Timothy Mudie with art by Vinayak Varma // 17 January 2023

'Mere Happenstance', a story by Joseph Paul Bernstein with art by Dante Luiz // 19 January 2023

'Two Great Thinkers Discuss the Future of Humanity', a story by David McGillveray with art by Martin Hanford // 24 January 2023

'Quad', a story by Philip Fracassi with art by Dante Luiz // 26 January 2023
IZ Digital also features classic editions of Mutant Popcorn (29 so far), reviews (the latest, Alexander Glass on Gary Gibson's new novel, Proxy), and interviews (late last year, A is for Anthropocene, Simon Morden's interview with to Paul McAuley about Beyond the Burn Line and much more).
You may want to add the IZ Digital RSS feed to your reader of choice.
---
IZ 296 Art Preview
'The November Room or Leaving the Labyrinth' by Teika Marija Smits will be published in Interzone #296 and the art for this story is by the incredibly talented Emma Howitt...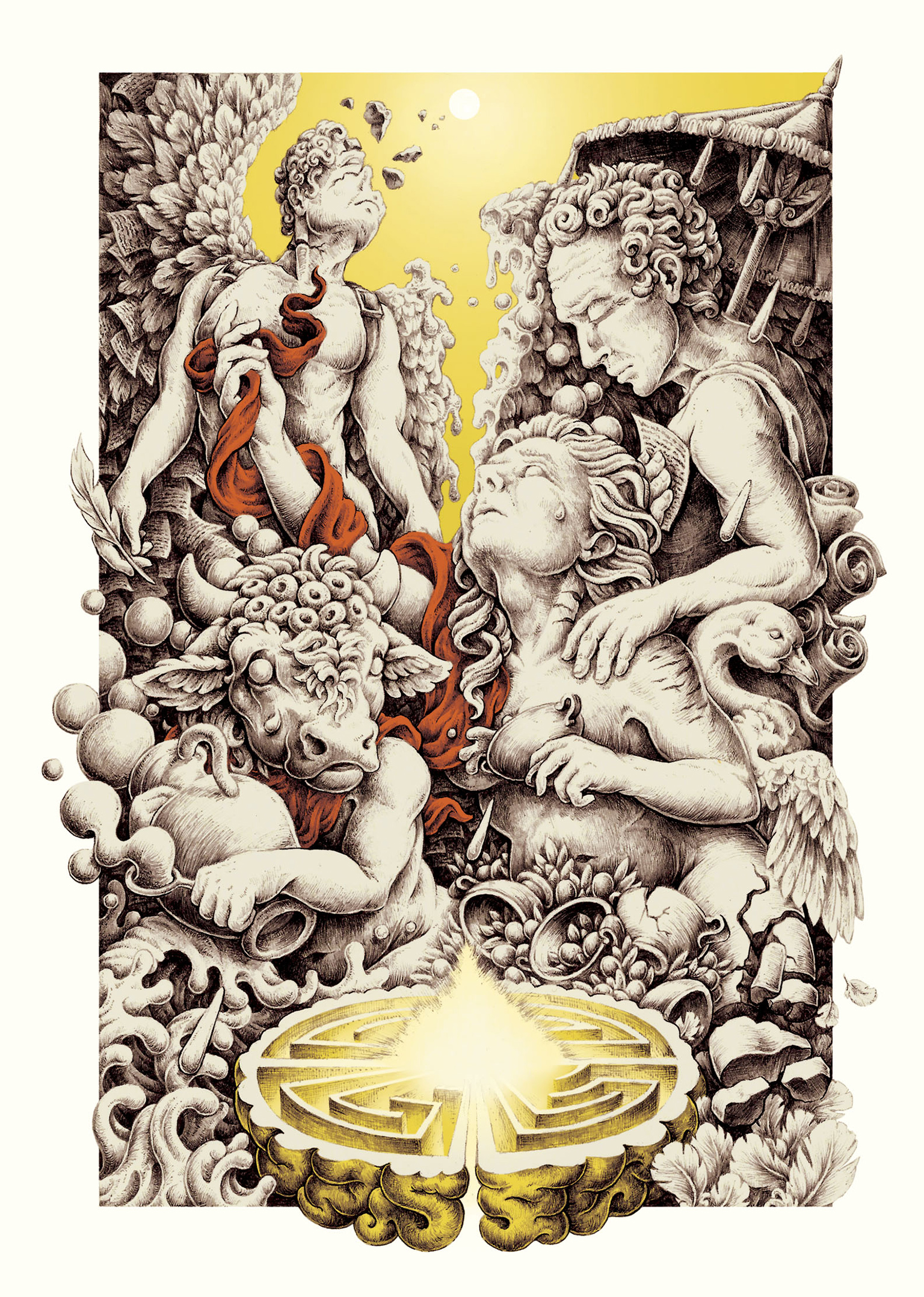 Teika has said that the story, a deep exploration of the psyche of a mother who is a famous sculptor, was hard to write. I couldn't put it down, the first time I read it, and by the end I was both shattered and entranced.
Emma Howitt's spectacular art engages with the story in so many ways, on so many levels, and I can't wait to see these words and this image in print later this year.
You can pre-order the issue now, or take out a subscription. All prices include free postage, planetwide. And a subscription also unlocks everything published and forthcoming in IZ Digital.
---
That's all for this one. Thanks for reading. Please tell people about Interzone and forward this newsletter on to anyone you think might like it.
See you next time.
Gareth Jelley, Editor & Publisher
Interzone & IZ Digital
---