The INTERZONE Newsletter // 6 December 2022
At last, the first edition of the Interzone Newsletter! Thank you for signing up and giving IZ some time in your inbox. I'll try to keep it short.
---
Okay...
Submissions
Yesterday FIYAH, the Magazine of Black Speculative Fiction, released its latest #BlackSpecFic Report about the state of representation of Black authors (and lack thereof) within spec fic markets. I found it eye-opening and I recommend it highly.
When I took on Interzone and launched IZ Digital, my goal was to to make both magazines welcoming places for both readers and contributors, whoever and wherever they may be. I still have a lot of work to do, and it is work I am passionate about.
So I will be revising the submission guidelines to make it clear that Interzone is always open to unsolicited submissions, from everyone, everywhere.
The current submission guidelines are here.
A Mammoth Mastodon Promotion
Well, a relatively mammoth promo.
Social media is... experiencing a difficult couple of months. So I have opened accounts everywhere: Hive Social (crashes my tablet; can't link to it right now), Post (looks clean and fast; seems quiet...), and Tumblr.
I have also blown the dust off the Instagram and Facebook accounts.
And... Mastodon.
Mastodon is... very different to Twitter.
If you are there, on Mastodon, you can find Interzone here. And on Mastodon, I am giving away 23 copies of Interzone #294, because 2023 is going to be a big year for the magazine, and 23 is a nice number. (And based on a recent email, 23 is probably the number of films Nick Lowe reviews in his latest humongous serving of Mutant Popcorn. Or close to it. Stay tuned...)
To get one of the 23 free copies of Interzone #294 (featuring Mutant Popcorn, fiction, two interviews, and reviews of over 24 books) simply (...)
join Mastodon
boost that toot
leave a comment below the toot (the boosted toot) recommending a short story (not necessarily an IZ or IZD story, or even an sffh story) that you read and loved in 2022.
The thread is growing steadily and it would excellent to see you there with interesting story recommendations, even if you don't want a free copy (who wouldn't want a free copy?!).
I'll be choosing a winner at random each day from Thursday 8 December to 31 December.
Just Three Questions – R.T. Ester
Next up, a newsletter feature that will hopefully happen again: Just Three Questions!
R.T. Ester, author of the IZ 294 story 'The Building Across the Street' (Martin Hanford's art is above), kindly answered three of my questions for you, the patient audience of this letter.
Here goes.
IZ: Do you remember where you got the initial spark for 'The Building Across the Street', your story in IZ 294? And did the title come late in the writing, or right away?
R.T.: 'The Building Across the Street' was my first real attempt to write short form with the intent that I would try to actively submit it to speculative markets. At the time, I was trying to find representation for a full-length novel I had written and going through the motions because things weren't moving at all. The short fiction market appeared to move somewhat faster so I decided to give that a shot.
I've always had this idea to write speculative fiction about people either left behind by technological progress or weary of it in some way. It's from there that the central character in 'The Building Across the Street' came about. Also buildings that can also make like spaceshuttles and blast off is a bit of worldbuilding I think I first encountered in one of Iain M. Banks culture novels and it always stuck with me.
The title came to me pretty early into the process and that ended up helping me keep the tone of the story consistent.
IZ: Aside from the amazing stories you have forthcoming in Interzone and IZ Digital, what do you have coming out that you would like to boost?
R.T.: I have a novelette that should be out in Clarkesworld sometime 2023. It's about a woman joining a fringe group that thinks it has discovered an emergent world-mind (noosphere, gaiamind, etc) and are trying to get it to stop playing rounds of tic-tac-toe with itself. It's one of the few stories where I was able to incorporate some of my earlier experiences in the graphic design field. It also features tattoo artists, NFTs, and a cruise ship on fire.
Also, at the time of me writing this, my novel is finally on sub. If all goes well, I will hopefully be able to get a few people to read about a sentient spaceship and its human passenger recreating the scorpion and turtle fable in space.
IZ: I know you're a big fan of Christopher Nolan's excellent TENET. What other films or television have you loved recently?
R.T.: TENET is great. It left a lot of people who saw it in theaters scratching their heads due to the sound-mixing but I'm personally not against Nolan's decision to prioritize atmospherics over whatever Pattinson's character was saying.
Another movie I saw recently with a director not skimping on atmosphere is The Batman, which also starred Pattinson. Also, I cannot recommend Andor enough.
Thank you, R.T. Ester!
Eels... in... SPAAACE!
R.T. Ester's 'The Moon Eel Bennett in Conversation with the Astronaut Who Came Back for It', a dark, funny story with a title that serves as the logline, is coming to IZ Digital in 2023.
Below is a sneak peek of Alex Maniezo's illustration and my EC comics-inspired (Alex and I both love EC comics covers) layout.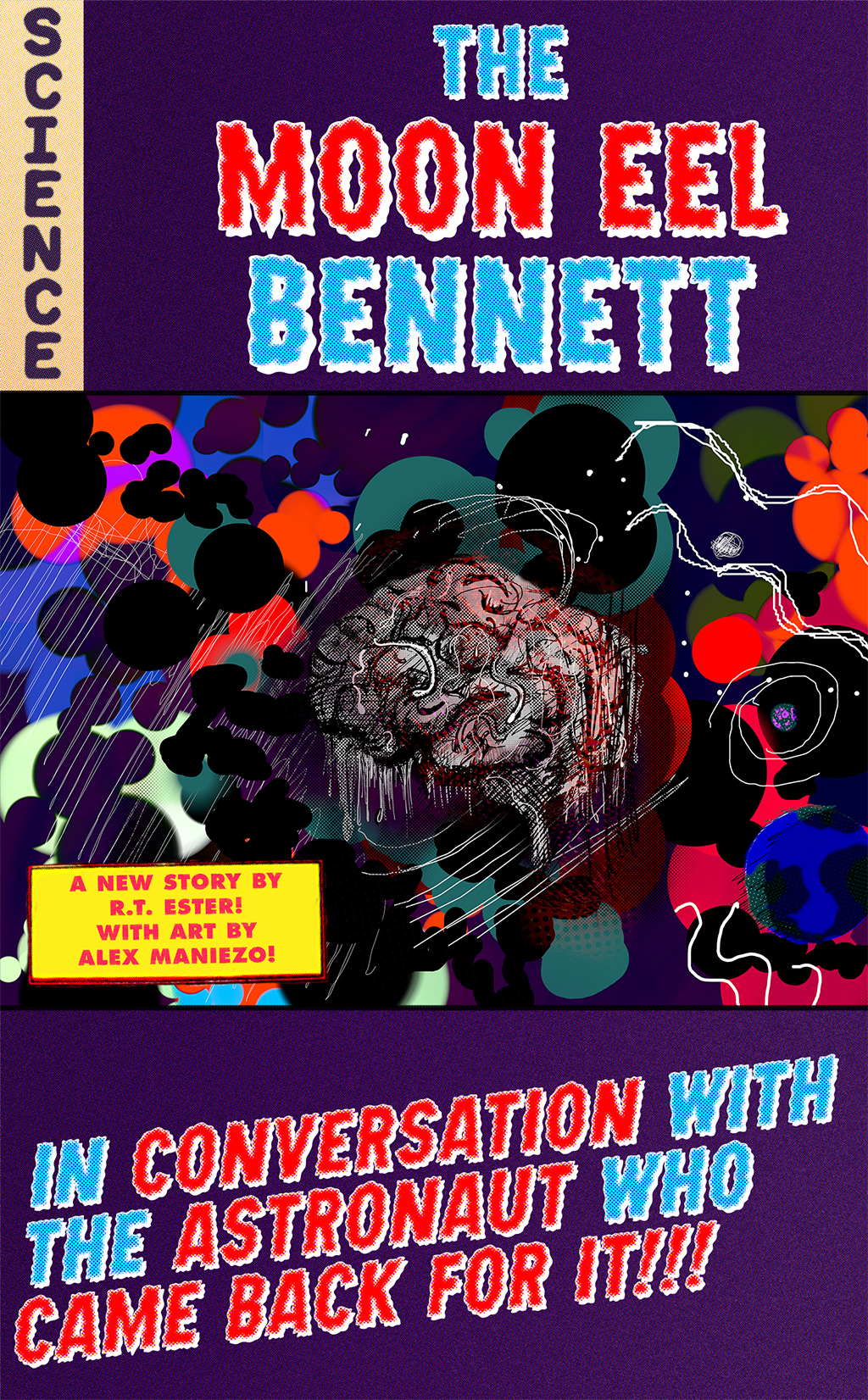 Look out for 'The Moon Eel Bennett in Conversation with the Astronaut Who Came Back for It' in IZ Digital next year.
If you subscribe to the print edition of Interzone, you already get free access to the 21 stories already published in IZ Digital – just email subscriptions [at] interzone [dot] press for details.
Subscriptions
Last up, if you haven't yet subscribed to Interzone, but want to, here is the link you need. Alternatively, click on the covers below to pre-order #294, #295, or #296.
Those links will also take you to a table of contents for each issue.
---
That's it. For now. Thank you.
Next edition I will have news of a few of the fabulous stories coming to Interzone next year. Some names will be familiar (very familiar for many), some completely new.
And more art. Hopefully an interview. And more. Who knows. See you there.
Warmly,
Gareth Jelley, Editor & Publisher
Interzone & IZ Digital
---

🔴